Hotel Info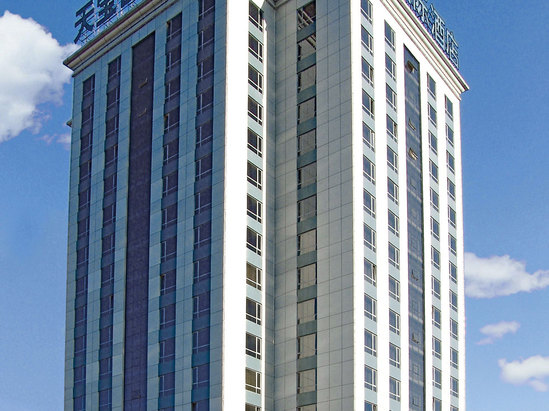 Tianbao International Hotel Shenyang
is close to the famous commercial street in Shenyang - Zhongjie street, adjacent to the world-famous Wal Mart supermarket, surrounded by commercial shops, giant shopping centers such as Yecheng and Xinglong family, and famous scenic spots such as Shenyang Palace Museum. Superior geographical location allows you to travel easily and quickly to Taoxian International Airport.
The lobby lounge on the first floor is a good place for you to enjoy leisure and comfort. Modern and spacious rooms create elegant and comfortable living environment for you. The room is fully equipped to meet your needs. Enjoy all kinds of dishes and cooking styles in tianbaoge Chinese restaurant. The hotel has a first-class dining environment, which can accommodate 800 people at the same time. Famous chefs from Guangdong, with his unremitting pursuit of food and passionate cooking style, will serve you new classical Cantonese cuisine, Dalian seafood dinner, fine swallow, abalone wings and local dishes. There are 13 elegant private rooms in the restaurant. Beverly western restaurant offers a selection of authentic international and Asian cuisine, providing daily buffet in the morning, afternoon and evening. You can savor exotic customs, delicacies and wines.
Its spacious Conference Center is equipped with multi-function hall, VIP room, large, medium and small conference rooms, with a total area of 500 square meters. It can accommodate 400 people for meetings, exhibitions and banquets at the same time. It is also equipped with advanced and perfect conference facilities and professional conference service personnel, so that your business activities can be carried out successfully. The business center with advanced equipment can provide you with typing, fax, copying, ticketing and other services, so that you can enjoy the convenience of business. The bar where night falls, you can taste top-grade cigars, enjoy classic jazz performance, and enjoy fashionable cocktails. Whether it's the pursuit of fashionable and dynamic dance steps or the indulgence of singing, it's the post station for your spiritual release.
Breakfast price
: CNY38($6.0) / person
Breakfast time
: 07:00-09:30
Breakfast type
: Buffet (Chinese)